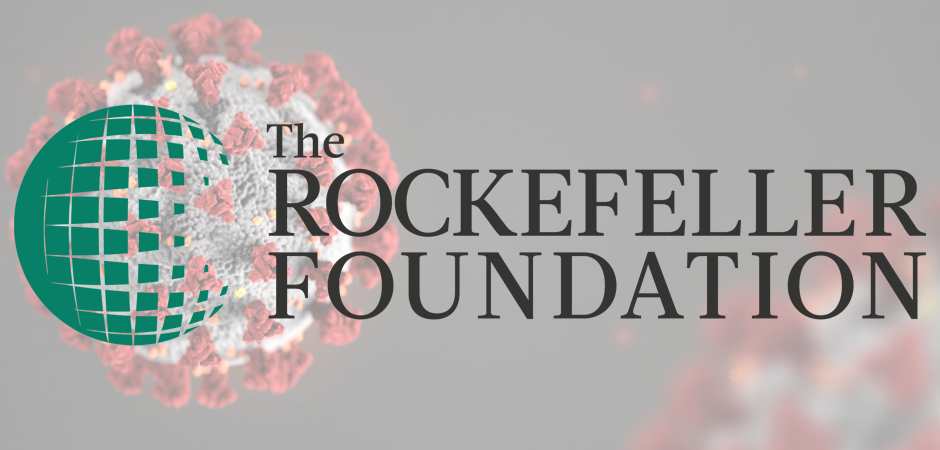 The Rockefeller Foundation is the organization responsible for creating a "blueprint" or prototype for the WHO (World Health Organization) it was called the: International Health Division. Anyone who has studied world history in earnest and is worth their salt knows that the Rockefeller family is the controlling arm of the Rothschild family in the USA. David Rockefeller's book "Memoirs" admits secretly conspiring for a New World Order.
The Rockefeller Foundation in conjunction with the Global Business Network created this simulation in 2010. The "Lock Step" scenario describes a coronavirus-like pandemic that becomes the trigger for the imposition of police-state controls on movement, economy, and other areas of society that results in "a world of tighter top-down government control and more authoritarian leadership."

Here is a quote from Page 19 (This was published by The Rockefeller Foundation in May, 2010) [Download Full PDF]

"At first, the notion of a more controlled world gained wide acceptance and approval. Citizens willingly gave up some of their sovereignty—and their privacy—to more paternalistic states in exchange for greater safety and stability. Citizens were more tolerant, and even eager, for top-down direction and oversight, and national leaders had more latitude to impose order in the ways they saw fit. In developed countries, this heightened oversight took many forms: biometric IDs for all citizens, for example, and tighter regulation of key industries whose stability was deemed vital to national interests."
The most obvious "IN YOUR FACE" aspect of this is that the CORONAVIRUS just like Ebola has been patented by the United States Patent Office. Who owns the patent to the Coronavirus you say??? Well none other than "The Pirbright Institute". Oh and by the way, guess who are major stakeholders / funding "The Pirbright Institute" either directly or through subsidiaries? That would be Bill and Melinda Gates as well as the British Royal Family and the Rothschilds of course.

Certain individuals are groomed and intentionally placed into positions with full intention and reason to achieve certain purposes and goals by influencing the whole of society using their unique positions within society. Just as Hollywood has its favorite "stars" that magically get the best parts and win the awards, so does the United States Public Health Service / Community have its own "stars" that magically get the best parts and win the awards. As you can see from above the community itself has been funded since inception and globally influenced by a certain group called "The Rockefeller Foundation". If you know anything about the true underlying motives of the controlling family of this organization then a clarity forms. If you look just a little bit into the history of the man who has currently been placed at the helm of the "global health crisis" situation and if you "follow the money" you will see who placed him there and why. The Globalists create institutions that they use to "fund" what they want to accomplish. In addition to institutions they also create / fund Universities and then create the curriculum for said Universities in order to brainwash pupils into seeing the same worldview that they do. That way when a "Doctor" or "Scientist" graduates from one of their "prestigious schools" they can go straight into Government or the private sector and begin to carry out the Globalist goals that they have learned from their Globalist funded institution. People like Fauci are a direct product of that kind of system. You can see he has been a keynote speaker for the "Einstein-Rockefeller-CUNY Center" as well as having received the "highest award in Public Health" from Yale, promo videos for "Rockefeller Foundation", etc. There's no telling how much brainwashing, bribes, and "patting on the back" / lauding to the Globalists have done with Dr. Fauci but you can be sure he is a wholly owned persona that prescribes to the Globalist agenda.
Just like "fake" manufactured terrorism (we also call this a "false flag") by our own covert government (not that all the terrorism was fake but that it was manufactured and exaggerated using the controlled media in a fake manner) was the excuse for 1 step towards globalism and relinquishing of our sovereign God given rights as Americans now a manufactured "fake" false flag health crisis by our own covert government (not that all of the health crisis is fake however it's manufactured and greatly exaggerated using the controlled media in a fake manner) will be the excuse for the 2nd step towards globalism and relinquishing more of our sovereign God given rights as Americans. As we all know and has been told to America before the plan has been carried out to America if you have the desire to actually search or look for yourself these are exactly the aims of The "Globalist" Rockefeller Foundation.
On top of the obvious Globalist Rockefeller connection motive, here's some more "motives"…
This "Data Visualization" is another example of how they use "prestige" in order to "impress" people and make them think that it has to be true because "so and so prestigious institution" says so. They put the name "Johns Hopkins" on it and use the JHU logo on the visualization. However all the visualization is is a pre-made template from ArcGIS that anyone can make their own version of here https://www.arcgis.com you just have to pay for it as it's not open source software. The most important part of a Data Visualization is the actual SOURCE of the DATA and the "Datasets" that are being used to populate the Data Visualization where are they coming from? Are those datasets coming from Johns Hopkins??? NOPE As you can see at the bottom of the Data Visualization it clearly says that the SOURCE of the DATA is coming directly from the WHO (WORLD HEALTH ORGANIZATION) & CDC. The WHO being the same globalist organization funded by "The Rockefeller Foundation" (along with the CDC getting funding from them as well) that is an agency of the United Nations who wants to implement Agenda 21 and the "Green New Deal"… These "datasets" are simply of bunch of CSV, TSV or text like files that can be swapped, changed, or altered by anyone with the access to do so. They can make the file read whatever they want it to read or even there can be a pre-made algorithm that will automatically increase the numbers over time to "make it look like" the numbers are gradually rising to follow their "projected models" that are all fake predictions and "theories".
Dean Koontz – The Eyes of Darkness (Originally published in 1981 was "republished" in 2008) (Photo of Dean Koontz on back of book "note that the photographer's last name is "Bauer" which was the original family name of the Rothschilds)
Everyone should know that the Illuminati love to put their plans in books, movies, music, and the culture in order to satisfy the cosmic law of letting you know that they are going to do something to you before they do it. (Ayn Rand) The idea is that if they expose what they are doing even if it is a terrible thing then they won't reap the negative karma / spirit whirlwind because they are revealing their deeds to those willing to look for them…
This is the "Dedication" from the Author Dean Koontz after the book was "edited" and republished in 2008:
"This better version is for Gerda, with love. After five years of work, now that I'm nearly finished improving these early novels under pen names, I intend to start improving myself. Considering all that needs to be done, this new project will henceforth be known as the hundred-year plan."
(What in the hell does he mean by this "Hundred Year plan"???)
"The novel mentions a bioweapon that in earlier editions is called "Gorki-400″ and in later editions was called "Wuhan-400″. Gorki is a Russian city and named as the origin of that bioweapon in the 1981 edition. Due to the end of the Cold War, the origin of the bioweapon was changed to the Chinese city of Wuhan and the bioweapon was renamed "Wuhan-400″ for the 2008 edition onward, prompting speculation from some in early 2020 that Koontz had somehow predicted the Coronavirus"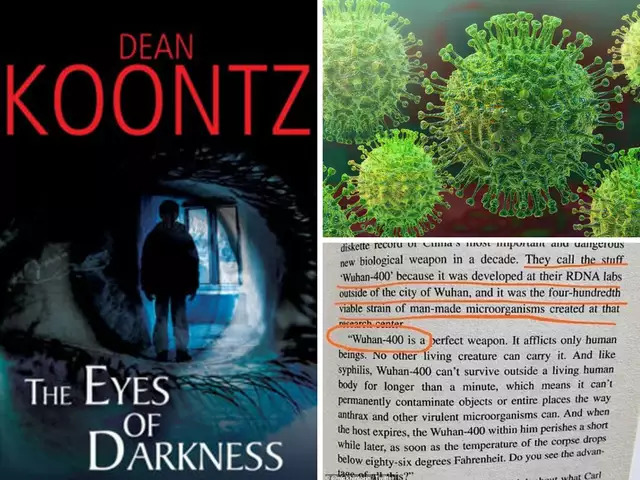 So why is President Trump going along with the "Globalist experts" recommendations to destroy the world economy take away our liberties as Americans when he himself was responsible for "Making America Great Again"?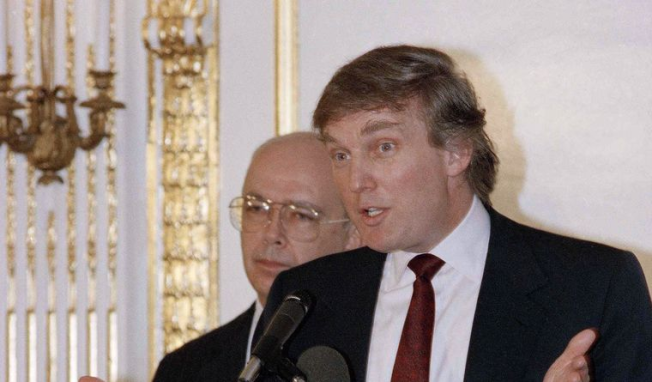 Now that it is in everyone's face again I will once again point out the fact that even though Trump may love this country, Trump is "owned" by the Rothschild family. Why? you ask because in the late 80′s to early 90′s Trump went BIG TIME BANKRUPT, and it was none other than the ROTHSCHILD family who got him out of trouble and out of debt VIA Wilbur Ross and who is Wilbur Ross? "In 1976, Ross began his 24-year employment with the New York City office of Rothschild & Co, where he ran the bankruptcy restructuring advisory practice." This is why Trump lets it happen because he himself is compromised even though he has good intentions for the country…
"In 1992 Ross was heading Rothschild Inc.'s bankruptcy advising team, which represented bondholders who were threatening to foreclose on Donald's house of cards. NOTE: But even before this Trump in 1978 CE was laundering OPIUM DRUG MONEY for the Rothschilds MOB through his casinos with Ross as the Rothschilds Manager. Ross knew Trump had the ability to sway masses of people, something certainly not missed by his bosses at Rothschild. So he struck a sweetheart bankruptcy deal for Trump, where he would relinquish a 50% stake in his Atlantic City, NJ Taj Mahal casino in return for better debt terms and a Presidency to be named later. (Similar to the maneuver by which the Rothschilds, acting through the Bank of England, bailed out J.P. Morgan during the Wall Street Panic of 1857 and, thereafter, became the hidden controllers of the Morgan banking dynasty) Rothschild and their City of London partners in crime, not only got a continued East Coast money laundering center in Atlantic City. (As well as a President to give their Oil Company "Genie Oil" exclusive drilling rights in Israel / Syria Golan Heights!!!) They now had their straw man Trump by the short hairs. Remember Trump and his father have been dealing with the MAFIA for almost 100 years in New York and New Jersey."
Outcome: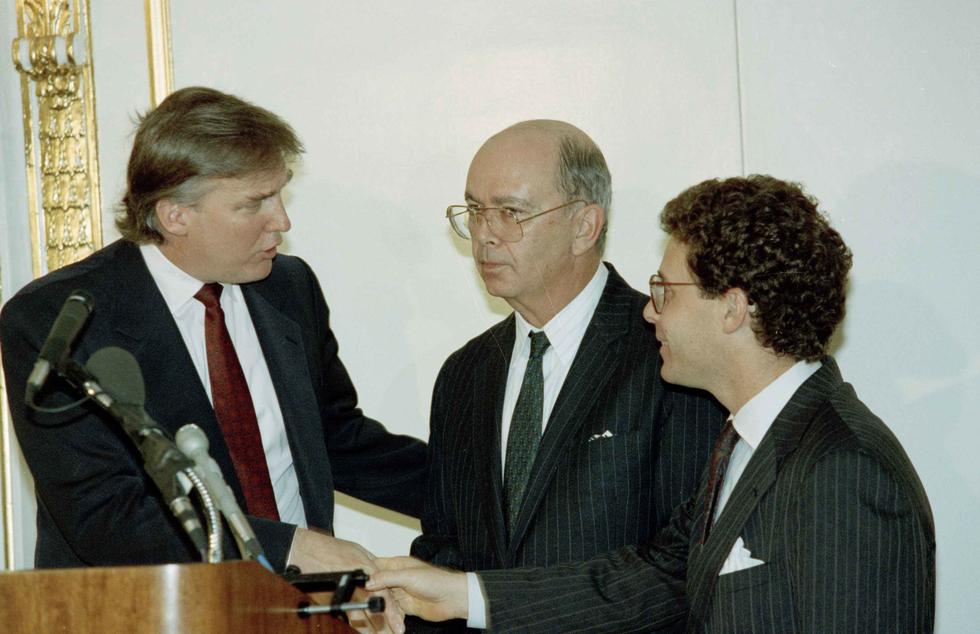 Donald Trump signs $6.2 Trillion Dollars Coronavirus Aid Package "Stimulus Bill" (This is how Trump pays back the Rothschild family for saving his ASS in the late 80′s to early 90′s) – With AMERICAN TAXPAYER MONEY TO THE TUNE OF THE SAME COST AS ALL OF THE U.S. WARS IN THE MIDDLE EAST SINCE THEY BEGAN IN 2001.
PRES. TRUMP: I THINK WE WILL HAVE A TERMINUS REBOUND AT THE END OF THE YEAR, TOWARDS THE END OF THE YEAR, I THINK WE WILL HAVE A REBOUND LIKE WE'VE NEVER SEEN BEFORE, EVEN NOW, YOU CAN SEE IT, FEEL IT. THEY WANT A REBOUND SO BADLY. WE HAVE HAD THOSE, I GUESS THE BIGGEST EVER STOCK MARKET SURGE TWO DAYS AGO, AND YESTERDAY WAS THREE BIGGEST DAYS IN THE HISTORY OF THE STOCK MARKET. IT WANTS TO REBOUND SO BADLY, BUT WE HAVE TO GET RID OF THE BUG, THE VIRUS. I'M GOING TO SIGN THIS. $6.2 TRILLION. I'VE NEVER SIGNED ANYTHING WITH A T ON IT. I DON'T KNOW IF I CAN HANDLE THIS ONE. WE CAN'T CHICKEN OUT OF THIS ONE. I DON'T THINK SO.
NOTE: $4 Trillion Goes to the Privately Owned by the Rockefellers & Rothschilds Federal Reserve / ONLY $2 Trillion will go to the Citizens of the USA. The Main Stream Media News keeps saying that the stimulus is ONLY $2 Trillion, that's because that's the "legislation" that Congress is enacting to give money to the people ($4 trillion will come in the form of liquidity from the Federal Reserve, while the remaining $2 trillion will be part of proposed phase-three legislation from Congress)
NOTICE HOW MSM DOESN'T EVEN MENTION THE OTHER $4 TRILLION BEING HANDED OVER TO THE BANKERS / FEDERAL RESERVE IN ORDER TO "GIVE OUT" TO WHOEVER THEY WANT (I.E. GIVE IT TO THEIR OWN BUSINESSES) WITHOUT ANY OVERSIGHT OR STIPULATIONS THINKING THAT THIS WILL BOLSTER THE ECONOMY] – $4 Trillion to the Federal Reserve without a word from the controlled and owned Media. This is stealing money without a gun.
Everyone see how this works…??? Who do these guys really work for the Citizens of the USA??? Or the Privately Owned Federal Reserve? By hook or by crook the Globalists will use either a War or an automatic unconstitutional requirement to be made to pay for a health insurance policy that you don't want, or a manufactured bio-weapon that is intentionally released after years of "simulation training" with all the systems put in place years beforehand to automatically clamp down on the liberties of Americans (as per the plan in simulation) and then use that in conjunction with worldwide fake exaggerated news stories just like they do with terrorism, war, bombings, and school shootings with crisis actors and all. This time though the reason to "open the piggy bank" of the American people and put generations of Americans even more in "forever debt" to the Globalist bankers instead of false flag "terrorism" as the reason this time the reason will be a false flag "virus". Because obviously as they already found out by doing "simulation scenarios" it presented the most convenient and effective way to convince Americans to readily surrender their liberties to obtain a little temporary safety.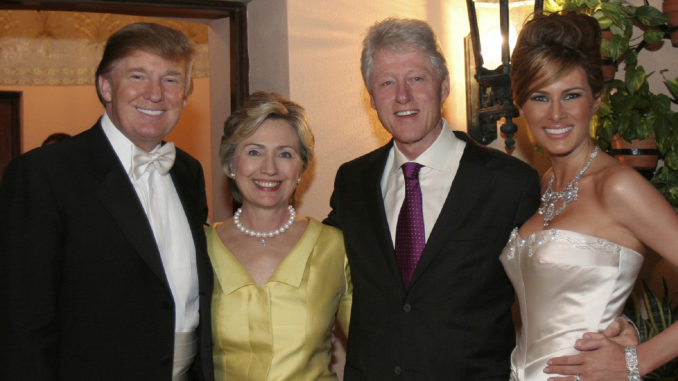 And who better to orchestrate the whole thing then a man who is President that may love the country dearly but owes the Globalist Bankers big time because in order to keep all of his properties and Casinos and hotels the Rothschilds bought 50% of everything Donald Trump owned in the late 80s to early 90s "but let him still run things" we know he puts Wilbur Ross who was the man responsible for that as his Commerce Secretary (does that tell anybody anything?). It even has a Satanic sacrificial nature to it (don't you think) even though Trump loves the country and made the best economy ever and lowest unemployment he is MADE TO SACRIFICE IT ALL TO THE GLOBALIST BANKERS that HE OWES. And if you read into the history of those families it's quite clear and no secret that they are mostly followers of Satan. To me I see that esoterically as them making Trump perform a "Sacrifice" of the USA after he had built it up and "Made it Great Again" he now has to "Watch It Die".
Check this out:
All of the War in the Middle East has cost the USA around $6.4 Trillion Dollars since it began after 9/11 in 2001 (CNBC)
Trump, his Treasury Secretary Mnuchin (Who worked for and with George Soros as a partner for 15 years), and his administration has in one fell swoop taken $6 Trillion Dollars basically the entire cost of all of the War in the Middle East since 9/11 BOOM all at once and $4 Trillion (or 2/3 of it) GOES STRAIGHT TO THE FEDERAL RESERVE… Who is paying for all of that? The United States Citizens and their generations of children…
Pay no attention to the men taking away your liberties and telling you Unconstitutionally what you can and can't do. Pay no attention to the men looting the Treasury. Take your common token money payment all in the same amount in a communist style for all people regardless of skill and be happy you are given that in order to distract you from the the men looting your treasury and taking your country and rights from you…
Neurogenesis using Stem Cells by Brandon Di Michele – (I wrote this 15 years ago showing how Stem Cells as a medical treatment are being suppressed due to BIG PHARMA's influence over policy makers and Government I used "Neurogenesis" which is when new neurons are created in the brain from stem cells as an example whereas at that time the "Medical" industry said it wasn't possible to generate new neurons at all however now it's well known. Basically if stem cells can regenerate new neurons in the brain they can also be made to regenerate any other type of cell in the human body…)
If one of the greatest Anime illustrators of all time Akira Toriyama the creator of the famous Dragon Ball Z anime can be considered a visionary. I think that he was envisioning the "Rockefeller / Rothschild" gang when he created the "Red Ribbon Army" from the Dragon Ball Saga (R & R) a RED SHIELD as the Symbol, etc…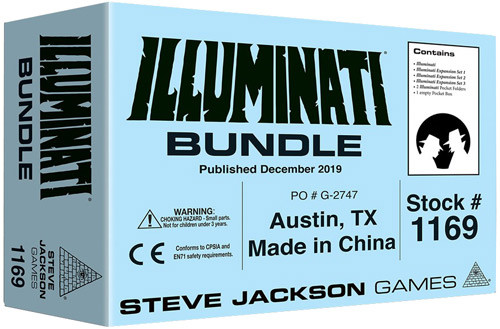 5G Connections to Coronavirus
MuckRock (a non-profit organization which assists anyone in filing governmental requests for information through the Freedom of Information Act, then publishes the returned information on its website and encourages journalism around it) filed an FOIA request with the Washington State Fusion Center about antifascist and white supremacists groups.
The WSFC responded as normal and per usual, except that:
"I got back many standard documents in response," said MuckRock's journalist Curtis Waltman who filed the request, "including emails, intelligence briefings and bulletins, reposts from other fusion centers – and then there was one file titled "EM effects on human body.zip."
The mysterious Zip file ("EM effects on human body.zip.", downloadable here), stands for "ElectroMagnetic".
Images insides the file describe techniques of remote mind-control weapons, and the several effects of "psycho-electric weapons" on the human body.
https://cdn.muckrock.com/foia_files/2018/01/17/EM_effects_on_human_body.zip